Immigration reform dilemma: Cut family visas to woo computer engineers?
Congress is closing in on immigration reforms that favor more immigrants with math and science backgrounds, but lawmakers are divided over whether to favor job skills over family ties.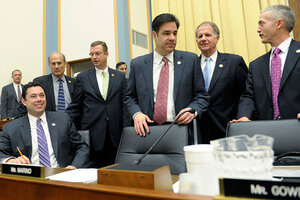 Susan Walsh/AP/File
If the House and Senate reach a compromise immigration reform accord, one thing is nearly certain: The proportion of immigrants who are given legal status in the United States because of family connections will be lower, while those allowed in for employment reasons will be higher.
Lawmakers of both parties have made it clear that they want to make it easier for graduates of advanced science, technology, engineering, and math programs to stay in the US and for a range of foreign workers – from farm workers to computer scientists – to come here. Moreover, a new guest-worker program with a potential pathway to citizenship will add hundreds of thousands of possible US citizens during the next decade.
But what the parties still have to resolve is whether those work-based visas should come at the expense of some family-based immigration slots.
The question is perhaps simpler for Democrats, who are generally more open to expanding the number of legal immigrants allowed into the country beyond its current level of 1 million. Republicans, meanwhile, are caught between their desire to boost employment-based visas for their backers in corporate America and their family-values platform. While some Republicans have indicated a willingness to let immigration levels tick up slightly, others within the party are advocating holding the line or even decreasing the number of immigrants admitted.
How lawmakers ultimately strike this balance will be a central theme in ongoing immigration reform negotiations.
"We want more immigrants, and there should be two bases on which those immigrants come. One is family, which I believe is the cornerstone of any good immigration system, and the second one is what are the needs of the economy," says Rep. Luis Gutierrez (D) of Illinois, a leading House negotiator on immigration reform, at a Monitor Breakfast on Tuesday. "And we're going to have to figure that out."
---