Fannie Mae record profit: How long until it pays back bailout money?
Fannie Mae, the mortgage giant, made a record $17.2 billion in 2012. So far, it has paid back $36 billion of the $116 billion it received in a US bailout.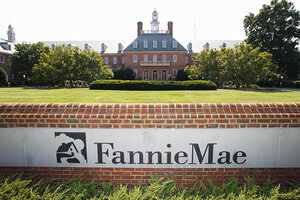 Manuel Balce Ceneta/AP/File
The mortgage giant Fannie Mae said it racked up its highest profit ever during the 2012 calendar year – a signal of housing-market recovery that raises hopes that US taxpayers will recover billions of dollars in bailout funds from the company.
Fannie Mae on Tuesday reported earnings of $17.2 billion for the year.
The firm, along with a sibling corporation named Freddie Mac, is at the heart of a US mortgage market that imploded during the financial crisis. The two firms received some of the biggest taxpayer bailouts in 2008.
But now, as housing markets are recovering, so are their fortunes.
Fannie Mae has drawn some $116 billion in financial support from the US Treasury since the firm was taken over in a federal conservatorship in 2008. Some $35.6 billion of that has, in effect, been paid back through dividend payments to the Treasury since 2009.
The company has paid a $4.2 billion dividend to the Treasury in the first quarter of 2013.
"We expect to remain profitable for the foreseeable future and return significant value to taxpayers," said Susan McFarland, the firm's chief financial officer, in releasing the new profit numbers.
In February, Freddie Mac gave a similar progress report of its own, banking $11 billion in net income for 2012. The firm has paid dividends totaling some $23.8 billion to the Treasury – or 33 percent of the company's cumulative bailout draw – since conservatorship.
Paying back the full bailout funds is still a long way off for both firms.
And even if they achieve that goal, that doesn't mean the bailouts would be cost-free. For one thing, economists say the rescues come with "moral hazard" attached. That term refers to the risk that the behavior of large financial firms will be guided somewhat that they can expect bailouts in future crises.
---