Senate ends gun control filibuster, but GOP still skeptical of bill
In a bipartisan vote Thursday, the Senate voted to override a filibuster and proceed with debate on a package of gun control bills. But support for debate doesn't mean support for the bill.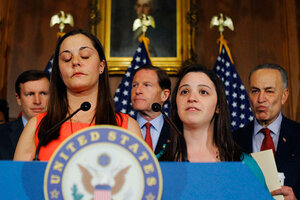 Gary Cameron/Reuters
The initial showdown on a Republican filibuster of new gun laws went down with a whimper.
The Senate voted, 68 to 31, Thursday to begin formal debate of fresh gun legislation. Sixteen Republicans joined all but two Democrats in pushing support above the 60-vote threshold needed to begin the process of amending and, eventually, attempting to pass the bill, which has been a top priority for President Obama since the massacre in Newtown, Conn., last year.
But those 16 Republicans are by no means all "yes" votes when the bill eventually comes to a final vote. Indeed, with their comments Thursday, some Republicans suggested that battle lines have been clearly drawn: They will have to be convinced that this package of gun legislation can have any meaningful effect whatsoever.
Republicans don't believe the legislation's current mix of grants for greater school safety, stiffer penalties for gun trafficking and straw purchases, and extending background checks to gun sales done online and at gun shows will do anything to stem gun violence. Moreover, they worry that the legislation infringes on Second Amendment rights.
---