Immigration reform too late to fix one big problem, studies say
Immigration reform aims to fix a migrant worker system that all sides say is broken. But demographic and economic trends in Mexico mean the era of cheap migrant labor flooding American fields is nearing an end, two studies say.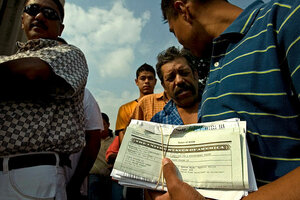 Guillermo Arias/AP/File
Two recent studies suggest that the immigration reform bill now making its way through the US Senate may not be able to solve one of the core long-term challenges it seeks to fix.
Beyond the weighty issues of border security and a path to citizenship for undocumented immigrants, the reform bill also targets America's migrant labor system, which both workers' rights groups and the agricultural industry say is broken. Agricultural businesses say there is not enough flexibility in the system to meet their employment needs, while workers say they can be trapped in unfair conditions.
Both sides say the reform measure, while not perfect, is an improvement. Yet the two recent studies suggest that economic and demographic trends in Mexico are already changing the dynamics of the American migrant-worker system. In the longer term, the increasing urbanization and prosperity of the Mexican middle class will dramatically diminish the abundant, very cheap Mexican farm labor that has flooded across the southern border for decades to harvest the crops of America.
"The longstanding assumption that the region has an endless supply of less-educated workers headed for the US is becoming less and less accurate when it comes to Mexico; and in the years ahead, it is also likely to become less accurate first for El Salvador and then Guatemala," says the executive summary of the report released Monday by the Migration Policy Institute and the Woodrow Wilson International Center for Scholars.
The second study agrees with the first and connects the trend directly to issues at the heart of immigration reform.
---