Its approval rating at new low, Congress plows ahead on immigration, taxes
The approval rating for Congress has never been lower, a poll shows. Might that change as the 'the broken branch' of government makes bipartisan headway on vexing issues of immigration and tax reform?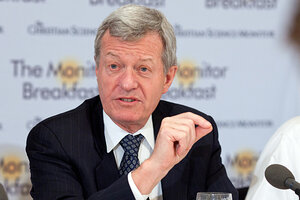 Michael Bonfigli /The Christian Science Monitor
Congress's approval rating has never been lower, but the "broken branch" of government that Americans love to hate is progressing toward a sweeping reform of both immigration law and the federal tax code that, if they actually cross the finish line, could help unstick Washington gridlock via this simple lesson: Bipartisanship pays.
Exhibit A for the case that Congress actually works, at least on some issues? President Obama isn't being compelled to pound the bully pulpit.
Congress's approval rating has tanked to a historic low of 10 percent, according to a Gallup poll released Friday. Mr. Obama's approval rating stands nearly five times that figure, at 46 percent.
Despite that approval gap, the president is lying fairly low on immigration reform and tax reform, giving key lawmakers space to try to advance legislation on two of America's most vexing and contentious issues.
The Obama administration has not "slammed the door on [tax reform], and I think at this particular stage it may be appropriate to see 'What can the committees do? Is this real or not?' " said Rep. Dave Camp (R) of Michigan, the top tax reformer in the House, at a breakfast for reporters sponsored by The Christian Science Monitor on Friday.
Nodding toward his tax reform co-conspirator, Sen. Max Baucus (D) of Montana, next to him at the breakfast table, Representative Camp said, "Obviously, we're both committed to working very hard to make this reality because we can't afford to wait."
---