Gun control: Illinois law requiring background checks among 'most stringent'
Illinois Gov. Pat Quinn, in signing the 'common-sense' gun-control law extending background checks to private sales, says it 'will help our law enforcement crack down on crime.'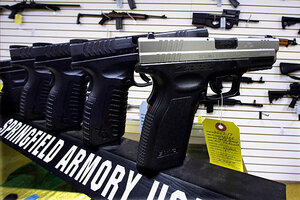 Seth Perlman/AP
Private gun sales in Illinois now require background checks after Gov. Pat Quinn signed tough new legislation intended to close a federal loophole that prevented law enforcement from tracking who was buying guns on the street.
"Guns are a plague on too many of our communities.… This common-sense law will help our law enforcement crack down on crime and make our streets safe," Governor Quinn, a Democrat, said in a statement released Sunday.
Under the new law, Illinois joins 17 other states and the District of Columbia in extending background checks to private sales.
But how these states carry out the checks differ. Some states, including Hawaii, Massachusetts, and New Jersey, require the purchaser to obtain a permit before buying the gun from a private seller, a step that automatically forces a background check. Others, including Iowa, Michigan, Nebraska, and North Carolina, require background checks, but only for handguns.
In some states, including Oregon and Nevada, background checks are voluntary.
Many states that do not require background checks on private sales place the burden on the seller, saying they are criminally liable if the guns they sell are used in a crime.
The new Illinois law is one of the "harshest and most stringent" in the nation, says Nicholas Johnson, a law professor at Fordham University who has researched firearms laws.
It requires private sellers to process transactions – whether online or in-person – through a licensed dealer or law enforcement agency so that the background check takes place before the sale. To do so, the seller must check if the purchaser has a Firearm Owners Identification (FOID) card, or if their card is valid, through a telephone system operated by the Illinois State Police, which requires applicants to pass criminal and mental health screenings.
---