Will California's $10-per-hour minimum wage push other states to act?
California is boosting its hourly minimum wage from $8 to $10, which would make it the highest in the US. President Obama wants to raise the federal minimum wage from $7.25 to $9.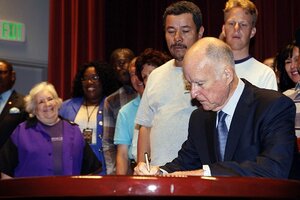 Nick Ut/AP
California is on track to have the nation's highest state minimum wage: $10 an hour.
That would top the current highest state figure – $9.19 an hour in Washington State – as well as the federal minimum wage of $7.25, which is the level in all but 18 states and the District of Columbia.
Business organizations fought the law, which Gov. Jerry Brown (D) signed Wednesday. The California Chamber of Commerce calls it a "job killer," and the California Restaurant Association said it was a "blow to small businesses" at a time when the state's unemployment rate (8.9 percent) is well above the national rate (7.3 percent), making it one of the highest in the country.
"Small-business owners will now be forced to make tough choices including reducing employee hours, cutting positions entirely, and for many, closing their doors altogether," said John Kabateck, head of the California branch of the National Federation of Independent Business.
But with a Democrat as governor and union-friendly Democrats controlling the state Legislature, it likely was inevitable that the increase to $10 an hour would become law, if only (as the restaurant lobbying group suggested) to avoid a ballot measure on the issue next year.
Calling it a "matter of justice," Governor Brown cited the growing disparity between rich and poor as a prime reason for raising the minimum wage.
"Our society over the last 30 years … has experienced a growing gap between those who do work at the bottom and those who occupy the commanding heights of the economy," he said during the bill-signing ceremony in Los Angeles. "It's my goal and it's my moral responsibility to do what I can to make our society more harmonious, to make our social fabric tighter and closer, and to work toward a solidarity that every day appears to become more distant."
---