Government shutdown looms: Is Republican resolve cracking?
As a government shutdown approached and polls showed an unhappy US public, some GOP moderates argued that the party insurgency had had its moment and that it was time to move on.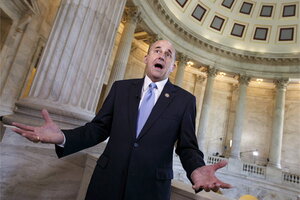 J. Scott Applewhite/AP
With just hours remaining before a government shutdown, cracks are appearing in a GOP edifice that had been united in pushing a showdown with President Obama and Senate Democrats to the stroke of midnight and beyond.
An insurgent faction representing about a third of the Republican Party is holding out for a win. But some GOP moderates are making a strong case that the insurgency has had its moment and ran into insurmountable odds, and that it's time to move on.
At the heart of the insurgency is Sen. Ted Cruz (R) of Texas, who declared partial victory Monday after the Senate rejected – swiftly, without debate, and on a straight party-line vote – the latest attempt by the GOP-controlled House to delay Obamacare.
"The voices of the American people have begun to be heard in this body," he said, speaking on the floor in midafternoon after a proposed one-year delay of Obamacare's individual mandate was defeated.
Senator Cruz and some 90 House Republicans had adopted a strategy of linking the defunding of Obamacare to the funding for the new fiscal year. They and the outside conservative groups that back them said that the individual mandate to buy health insurance was so unpopular that the American people would rise up and force Senate majority leader Harry Reid to adopt the plan and Mr. Obama to sign it.
That didn't happen, and polls show a majority of Americans think preventing a government shutdown is more important than defunding Obamacare.
In a bid to keep his caucus unified – or, at least, fight to the last possible minute – House Speaker John Boehner took one last shot Monday evening at formulating an offer that Senator Reid in theory could not refuse: delay Obamacare while requiring members of Congress and their staff to buy health insurance on the same public exchanges as other Americans.
---