As government shutdown drags on, some in Congress see fit to donate their pay (+video)
With federal workers furloughed, a growing number of lawmakers say they'll forgo or donate their pay. Such gestures, however, are not expected to tame public anger at Congress over the government shutdown.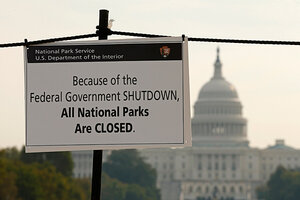 Kevin Lamarque/Reuters
As long as the government is shut down, US Sen. Jeanne Shaheen (D) of New Hampshire will be donating her salary to the New Hampshire Food Bank – about $477, or 953 meals, each day.
She tweeted her intentions Wednesday, joining a growing list of members of Congress who say they will donate or at least suspend their pay in solidarity with hundreds of thousands of furloughed federal workers.
Such gestures can't hurt, political experts say, but they won't go very far in taming public anger, and the hunger for a meeting of the minds on Capitol Hill to get the government up and running again.
"It's purely symbolic, but in a country that's frustrated with Congress and … still living with a struggling economy, there's something satisfying with hearing a legislator say that if the government is shut down, you're not going to take money either," says Julian Zelizer, a political historian at Princeton. Ultimately, however, "it's the shutdown that matters, not the salary, and I think people are smart and cognizant of what's wrong in Washington."
With the shutdown in its third day, a flurry of Facebook pages, tweets, and statements in local media reports indicate many lawmakers on both sides of the aisle will be donating salaries to organizations ranging from the Wounded Warrior Project to the March of Dimes.
"I appreciate the symbolism of a Congressperson not accepting wages when other federal employees are not getting paid," says Mike Ostrowski, president and CEO of Child and Family Services of New Hampshire, to which Rep. Ann McLane Kuster (D) of New Hampshire plans to donate at least a portion of her salary.
---