In three US cities, three longtime mayors prepare exits. What legacies?
Minneapolis' R.T. Rybak, New York's Michael Bloomberg, and Boston's Tom Menino will all have successors after Nov. 5 municipal elections. Each has served at least 12 years as mayor, and all leave an imprint on America's urban landscape.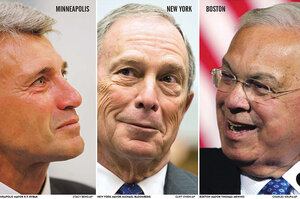 Photos: AP
Call them the hipster, the billionaire, and the boss.
Three mayors of three cities, each having served at least three terms, are now preparing to exit the municipal stage after more than a decade shaping major metropolitan hubs – and perhaps the American urban landscape, too.
There's R.T. Rybak in Minneapolis, the mayor known for crowd-surfing at an alt-rock venue made famous by Prince, and leading 30,000 zombies on a city-sanctioned pub crawl – and hosting its contest to see who could eat the most brains (pork brains in tacos, that is).
There's Michael Bloomberg in New York, the media mogul and world's 13th-richest man, the mayor of the nation's financial central server, ticking off the secrets of his success with a simple Wall Street mantra: Arrive early, leave late, eat lunch at your desk.
Then there's Thomas Menino in Boston, the five-term septuagenarian mayor cut from a sepia-toned era of backroom power brokers, a politician who has shaken so many hands, attended so many ribbon-cuttings, and sat with so many parents at Little League games that today almost half of Boston's residents say they have met him personally.
Come Nov. 5, voters will elect successors to the men who have practically become the public faces of their respective cities. It will mark the first time this century that three mayors who've served at least 12 years in major cities will leave office at the same time.
---