D.C. Decoder 101: How Washington spends your money
There's a lot of talk about cutting the US deficit but very little actual cutting of deficit. One reason? There's not much easy to cut. Decoder explains the six ways Washington spends money.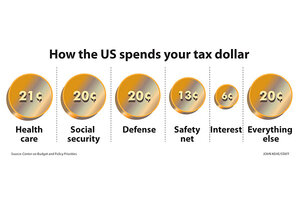 Staff
The federal government is the biggest spender in the US, and maybe the world. How big? So big that in 2011 Washington laid out a cool $3.6 trillion. (Not million, not billion, but trillion, with a "T".) So big that its budget is equal to about 20 percent of the nation's entire gross domestic product. So big that if you're like most citizens you have little idea exactly what it is that Uncle Sam is buying in your name.
Oh sure, you know generally that Social Security is expensive and the Pentagon isn't cheap, and so on. But many Americans are unaware of the relative size of these and other general budget categories. Plus, despite what you may hear on cable news shout shows, there is no magic fount of wasteful spending the elimination of which will put the US budget in the black. Lazy bureaucrats? Too few. Foreign aid? Too small. Military bands? Please.
This doesn't mean government operations don't need to be efficient or effective. It does mean that the US budget is heavily entwined with the lives of the nation's citizens. That's why big cuts, however necessary to balance the budget, are so difficult for many politicians to make.
HEALTH CARE. As with many US family budgets, the largest single category of federal spending is "health." Three big health programs – Medicare, Medicaid, and the Children's Health Insurance Program (CHIP) – account for 21 percent of the $3.6 trillion 2011 federal budget, according to figures compiled by the Center on Budget and Policy Priorities (CBPP).
---