How Obama wins on Arizona immigration
The Supreme Court ruling on Arizona's tough immigration law was essentially a tie. But politically, Obama is the likely winner, as Latinos watch for evidence of racial profiling in the 'show me your papers' provision that the president fought.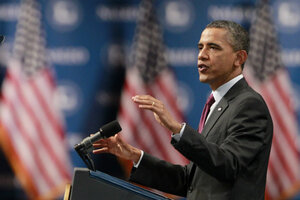 John Raoux/AP
In the US Supreme Court, Arizona and the Obama administration fought to a draw over the state's tough anti-illegal-immigration law.
But politically, President Obama looks to be the winner out of Monday's ruling. Because his administration successfully challenged three of the law's four parts, the president is vindicated for pushing back. And even though he lost on the law's central provision – dubbed "show me your papers" – he can use that to energize Hispanic voters, many of whom are worried that it will result in racial profiling.
The reactions from both camps were telling. Mr. Obama went to the specifics of the case, warning about the potential for civil rights violations. The provision that was upheld requires police in Arizona to check the immigration status of anyone they suspect of being in the US illegally, a process that could result in racial profiling.
"No American should ever live under a cloud of suspicion just because of what they look like," he said.
Mitt Romney's initial response didn't discuss the ruling on a law he once called a "model" for the nation. Instead, the former governor of Massachusetts repeated his previous criticism of Obama, accusing the president of failing to provide leadership on immigration reform. Then, a Romney press secretary spent seven minutes avoiding a discussion of the ruling. It wasn't until later in the day that Mr. Romney began to react to the ruling itself, offering a mild criticism.
---