Obama tax-cut plan: easing risk of 'fiscal cliff'?
Not extending the Bush-era tax cuts for the rich could cut the federal deficit by $81 billion in 2013, but it could also damage the economy by reining in spending by the highest-earning Americans.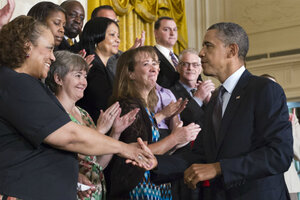 J. Scott Applewhite/AP
President Obama didn't use the word "fiscal cliff" Monday when he proposed extending middle-class tax cuts, but his proposal relates directly to the fears embodied in that phrase.
The so-called cliff is this: Under current law, the scheduled expiration of major tax breaks at year end raises worries that the nation could be pushed back into recession as millions of consumers simultaneously get hit with higher federal taxes.
The president urged that Congress act now to keep the Bush-era tax cuts in place for about 98 percent of Americans for 2013. But he would allow the Bush-era tax cuts on higher-earning Americans to expire. The plan fits with Mr. Obama's longstanding views on tax policies, and with his election-year strategy of casting himself as for the "middle class" and Republicans as for "the rich."
But, if enacted, it would also have big implications for the trajectory of federal deficits – and for the risk of a recession induced by those expiring tax breaks.
Essentially, Obama is proposing to turn that dreaded economic cliff into more of a gradual slope.
Taxes would still go up for families earning more than $250,000. The White House estimates that, by bringing in more revenue, this would shrink the federal deficit by some $83 billion in 2013.
---