Hurricane Sandy blows climate change back onto the presidential campaign
Climate scientists caution against any direct connection between a hybrid storm like Sandy and Earth's warming trend. But that possibility has brought climate change back into the conversation.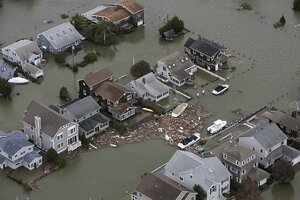 Tim Larsen/New Jersey Governor's Office/REUTERS
Until last week, climate change was pretty much a dormant issue in the presidential campaign.
Except for environmental activists, hardly anybody was talking about it – certainly neither of the candidates in any sustained or substantial way.
"Obama has been mostly climate-mum since 2009," observed Scott Rosenberg, executive editor of Grist, the environmental news and commentary web site. "Meanwhile, Mitt Romney has walked back from his carbon-cutting Massachusetts policies and embraced the current GOP orthodoxy, which is to mock anyone – including the president – who suggests taking the issue of the planet's warming seriously."
(In his nomination acceptance speech in Tampa, Fla., Romney played for laughs Obama's 2008 line about how "generations from now, we will be able to look back and tell our children that … this was the moment when the rise of the oceans began to slow and our planet began to heal.")
IN PICTURES: Sandy, an unrelenting storm
Then came the political gale force known as Sandy. The ocean did rise, and with it the rhetoric on climate change – not so much from Obama or Romney, but from others concerned that manmade carbon emissions had reached the point where severe climate events are occurring more frequently and with greater devastation.
---