Whose votes count, whose don't? The legal landscape before Election Day
Here's how judges have ruled in four major election-law flash points: voter ID laws, early voting, provisional ballots, and the purging of voter registration rolls.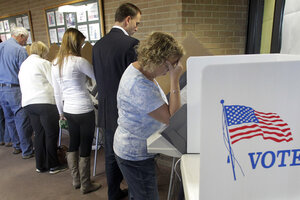 Rick Bowmer/AP
Not since Bush versus Gore in the 2000 election have so many lawyers and so many judges been involved in determining the intricate details of how a presidential election would be conducted – and potentially decided.
Despite an unprecedented blitz of preelection litigation in recent months, it remains unclear whether controversial changes in state election laws involving voter identification, early voting, and provisional ballots, among others, will influence who wins and who loses on Election Day.
But this much is clear: The legal landscape on the eve of the 2012 presidential election generally favors the status quo that existed prior to passage of the new laws.
The rough trend among judges, appointed by both Republicans and Democrats, has been to decide preelection disputes in favor of cutting back on election-law changes that they deemed likely to present obstacles to prospective voters.
The decisions have sought to foster more access to the polls at the expense of laws passed by Republican-controlled state legislatures that lawmakers said were aimed at boosting the integrity of election results.
In the bitter rhetoric of the campaign, the battle was between what Democrats denounced as voter suppression measures and what Republican lawmakers touted as necessary antifraud provisions.
In the end, it appears the 2012 presidential election will be decided not through fraud or suppression, but the old-fashioned way – at the ballot box.
"Nearly all of the worst new laws to cut back on voting have been blocked, blunted, repealed, or postponed," according to a recent report by the public-interest law group Brennan Center for Justice, which opposed the Republican-passed measures.
---