Why most Americans are yawning over 'sequester' – and why that matters
Only 1 in 4 Americans is following the debate over 'the sequester,' and even fewer say they understand it, a new poll shows. If the spending cuts take effect and more people pay attention, Obama's public support could slip.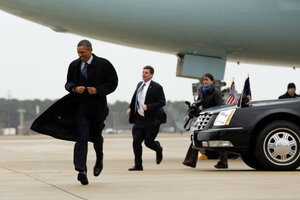 Kevin Lamarque/Reuters
President Obama is working hard to ramp up public agitation over the looming "sequester" – big, across-the-board spending cuts that, if fully implemented, could send the US economy back into recession. If the sequester goes into effect and starts doing damage, blame the Republicans, Mr. Obama says.
On Tuesday, the president holds his latest campaign-style event focused on what the cuts would mean for real people. Obama is speaking at Newport News Shipbuilding in Newport News, Va., a coastal city whose economic health depends on Navy contracts.
Workers in Newport News are understandably anxious. But to much of the country, "sequester" is just a weird word that doesn't mean much or affect them personally. Only 1 in 4 Americans is following the debate over the $85 billion in federal spending cuts scheduled to kick in on Friday, according to a new poll by the Washington Post and the Pew Research Center. Even fewer people – 18 percent – say they understand the issue "very well."
Part of the problem could be the lexicon. Who knows what "sequester" means? That, despite valiant efforts by the media to explain it. It's actually a verb that means to isolate or cut. The noun form is "sequestration," but that's even more awkward (an extra syllable, after all) and hardly fodder for water-cooler chat – unless, of course, it's your job that's possibly on the line, in which case you are keenly interested.
---