On gay marriage, political ground shifts rapidly: Will Supreme Court take note?
The US Supreme Court this week takes up two key gay marriage cases. Public opinion is changing rapidly here – a particular challenge for Republicans trying to rebrand their party.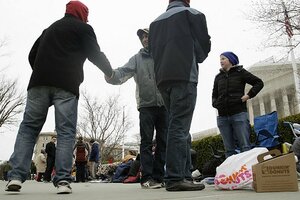 Jonathan Ernst/REUTERS
As elected officials and pundits wait to hear US Supreme Court arguments in two gay marriage cases this week, they find the political ground on this hottest of social issues rapidly shifting beneath them.
Headlines in recent days tell the story: "Support for gay marriage is soaring" (Washington Post) "Why Republicans Are Saying 'I Do' to Gay Marriage" (Time) "The Normalization of Gay Marriage" (The Atlantic) "Millennial Support For Gay Marriage Hits All-Time High" (Huffington Post)
The stories and the shift in public opinion they reflect are most challenging to Republicans.
When Sen. Rob Portman of Ohio came out for same-sex marriage recently (because his son is gay), fellow Republicans professed their personal support for him while gently disagreeing with his newly-declared stance.
New Jersey Gov. Chris Christie – who faces re-election this year and is considered to be a strong possible candidate for president in 2016 – wrestled rhetorically over whether he would sign a proposed law outlawing so-called "conversion therapy," the controversial practice which seeks to make those who see themselves as homosexual "convert" to heterosexuals.
"I'm of two minds just on this stuff in general. No. 1, I think there should be lots of deference given to parents on raising their children," Gov. Christie said at a news conference last week. "I don't – this is a general philosophy, not to his bill – generally, philosophically, on bills that restrict parents' ability to make decisions on how to care for their children, I'm generally a skeptic of those bills. Now there can always be exceptions to those rules, and this bill may be one of them."
---