Did the Associated Press blow an Al Qaeda informant's cover?
Some officials say the Associated Press scoop on a thwarted terrorist plot by an Al Qaeda affiliate in Yemen harmed the effort to neutralize a master bomb-builder. Does that excuse the Obama administration's aggressive crackdown on national security leaks?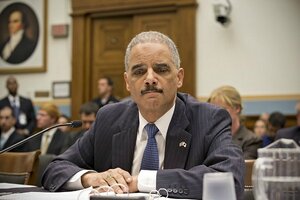 Scott Applewhite/AP
How bad was the Justice Department's going after the phone records of Associated Press writers and editors?
Very bad, according to most journalism professionals worried about sources – especially whistleblowers – refusing to talk for fear of Big Government retribution.
"First Amendment radicals – I count myself among them – resist any and all such intrusions," writes Reuters columnist Jack Shafer. "You can't very well have a free press if every unpublished act of journalism can be co-opted by cops, prosecutors and defense attorneys."
But it's still unclear how serious the leak was that led to the AP's scoop about a foiled terrorist plot in Yemen and then to the sweeping search for the leaker. Did it in fact "put people at risk," as President Obama suggested this week?
Duke University Law School professor Christopher H. Schroeder, who was Assistant Attorney General for the Office of Legal Policy in the Obama administration from 2010 to 2012, obviously is not a disinterested source.
---