Syria strike: Is loss of strategic surprise costing the US?
If and when the US carries out a missile strike, Syria's military will have had ample time to prepare, and Russia will be better positioned to provide Assad real-time intelligence, experts say.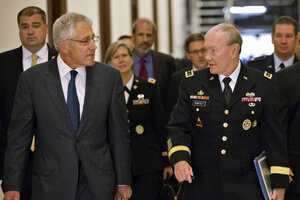 J. Scott Applewhite/AP
If the US launches cruise missiles against Syria it won't come as a surprise to Bashar al-Assad's regime. Delay and debate in the US have given the Syrian government lots of warning time to hide weapons and equipment and otherwise attempt to harden itself against possible air strikes.
Does this time slippage matter? Would it end up degrading the effects of any eventual US attack that President Obama might order?
The nation's top military officer says it won't. In congressional appearances this week Chairman of the Joint Chiefs Gen. Martin Dempsey said US forces in the region can remain alert and on-station for the foreseeable future. It's true that Syria has moved some potential targets out of harm's way, said Gen. Dempsey. But that activity began days ago, when it first became apparent that the US took seriously evidence that President Assad had gassed his own people.
And "time works both ways," said Dempsey. US intelligence assets focused on Syria have been able to learn a lot about what the regime has, and where that stuff is stored, as fear of US munitions has caused a flurry of hasty activity. Right now the Syrians don't know how much targeting information the US has.
"I'm confident in the capabilities we can bring to bear to deter and degrade. And it won't surprise you to know that we will have not only an initial target set but subsequent target sets should they become necessary," Dempsey told the Senate Foreign Relations Committee on Tuesday.
---