Government shutdown: Default now focus, as Treasury warns of 'catastrophe' (+video)
On Day 3 of government shutdown, Democrats and Republicans shift the conversation to the looming debt limit, as chances grow that both issues will be resolved together.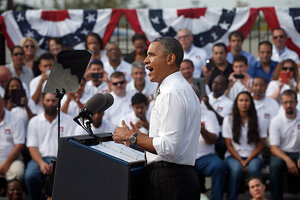 Charles Dharapak/AP
With no resolution in sight to the government shutdown, Washington policymakers in both parties are looking ahead to a far more consequential deadline: the Oct. 17 debt limit.
If Congress does not raise the ceiling on government borrowing authority beyond $16.7 trillion by that date, the United States would soon head toward a historic default on its debt payments, risking a global economic crisis.
But that threat may be the bludgeon required to move Washington off the budget stalemate that closed parts of the federal government on Tuesday, analysts say.
On Thursday, the Treasury Department raised warning flags about engaging in debt-ceiling brinkmanship.
"A default would be unprecedented and has the potential to be catastrophic," Treasury said in a six-page report. "Credit markets could freeze, the value of the dollar could plummet, US interest rates could skyrocket, the negative spillovers could reverberate around the world, and there might be a financial crisis and recession that could echo the events of 2008 or worse."
Just getting close to breaching the debt ceiling creates uncertainty in the debt markets and raises borrowing costs, Treasury warns. After the 2011 debt ceiling near-breach, Standard & Poor's lowered the US credit rating below AAA for the first time.
President Obama reinforced the Treasury message in a speech at a construction company in Rockville, Md., Thursday morning, saying the economy – not just the government – would shut down if the federal government could not borrow any more money.
---