Washington at war: Political animosity reaches new, personal level
With no end in sight for the government shutdown, the partisan animosity has gotten unusually bitter and personal, even for Washington. Americans are angry too.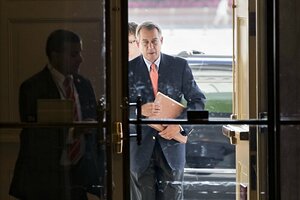 J. Scott Applewhite/AP
Everybody knows that "politics ain't beanbag," as American humorist Finley Peter Dunne's "Mr. Dooley" put it more than a century ago.
But the partisan animosity over the government shutdown has gotten unusually bitter and personal, even for Washington.
Senate Majority Leader Harry Reid is quoted calling House Speaker John Boehner "a coward." Mr. Boehner's reported characterization of Democratic leaders in Congress – questioning the circumstances of their birth, to put it politely – is no less insulting.
In a piece about Reid, Boehner, House Minority Leader Nancy Pelosi, and Senate Minority Leader Mitch McConnell headlined "Bad blood: Four feuding leaders," Politico reports that "the relationship between the nation's top political leaders is now brimming with acrimony, distrust, and pettiness at a perilous time for the country's economy."
"But the personal animus extends beyond the leaders," this report notes. "Along with their bosses, aides to Boehner and Reid are in an undeclared war and neither is refusing to budge an inch."
Many long wistfully for the days when President Ronald Reagan and Speaker Tip O'Neill could fight hard over policy by day and entertain each other with stories in the evening. MSNBC's Chris Matthews, a former top aide to Rep. O'Neill, writes about this in his new book "Tip and the Gipper: When Politics Worked."
That began to change, political analysts note, when former Rep. Newt Gingrich assumed House leadership in 1995.
"Newt was a 'take no prisoners' kind of Speaker," former GOP congressional staff member John Lawing told Capitol Hill Blue, a non-partisan political web site. "For him everything was personal and partisan."
Today, partisan organizations on both sides are joining the fray.
---