Beyond Hillary Clinton: 10 other Democrats who might run for president
Hillary Rodham Clinton looks ready to run for president in 2016. But there are many other potential Democratic candidates. Here's our list: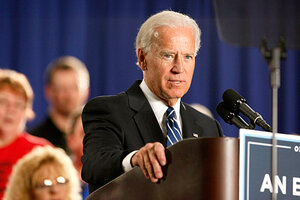 Madalyn Ruggiero/AP/File
1.

Joe Biden

If President Obama heads into his final stretch in office with a decent economy, Obamacare reasonably on track, and no major liabilities abroad, then Vice President Joe Biden could be in a position to claim Mr. Obama's "third term."

For well over a year, Mr. Biden has dropped hints about 2016. On Election Day 2012, while waiting in line to vote in his home state of Delaware, he was asked if this was the last time he'll vote for himself. He smiled: "No, I don't think so." At another point he joked about running for "county council or something."

In July 2013, Biden told GQ magazine: "I can die a happy man never having been president of the United States of America. But it doesn't mean I won't run."

Age might be an issue. Biden will be in his mid-70s in 2016. If he runs, he'd be angling to be the oldest person ever elected president.

Biden has been a Washington fixture since his first election to the Senate in 1972 – and he's run for president twice before. By 2015, when the field starts to form, Democrats may be looking to their next generation for presidential candidates.