Why presidents' kids struggle with careers
(Read article summary)
Jenna Bush Hager landed a plum job with 'Today,' but presidential offspring often falter in their efforts to establish meaningful livelihoods.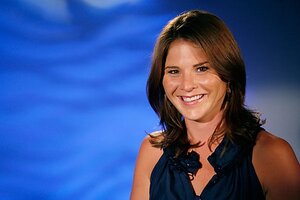 Jeff Christensen/ AP/ File
Wish Jenna Bush Hager well in her new job on TV news. Decoder believes she is going to need all the help she can get. That's not a comment on Ms. Hager's fitness to be a "Today" show contributor. She seems a personable young woman and that might come across well on-screen.
No, we're talking about the difficult relationship between presidential children and employment. Many find it hard to establish an identity and make their own way in the world outside the White House.
"Do they have trouble with careers? The answer to that is 'absolutely,' " says Doug Wead, a presidential historian and former special adviser to President George H.W. Bush.
Finding a job, per se, isn't the problem, says Mr. Wead, who is the author of "All The Presidents' Children," a history of US first families. Someone is usually willing to offer them a position or a deal in an attempt to trade on their celebrity.
But "first kids" face enormous pressure to live up to their names. Media attention means they can't just endure typical 20-something travails in peace. Remember Ron Reagan Jr.?
---