Inside Obama's work space -- the Oval Office
(Read article summary)
The Oval Office can be the perfect setting for presidential speeches and meetings with heads of state. But most presidents set up an office in the White House residence for at least some of the day-to-day work.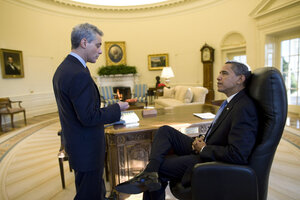 Pete Souza
The Oval Office is a majestic room. The marble fireplace, the curved walls, the flags – they just say "power." That's why President Obama chose the Oval for his crucial June 15 speech to the nation on the BP oil spill.
But 18-foot ceilings and desks made from old frigates can be distracting when it comes to pushing through your phone calls. Most US presidents worked elsewhere part of the time. Some seldom used the Oval Office at all.
"The Oval Office is symbolically a pretty imposing place. Where do you put your feet up?" says Stephen Hess, a Brookings Institution senior fellow in governance studies.
IN PICTURES: Inside President Obama's White House
The first Oval Office was built on the order of President William Howard Taft in 1909. The room as it looks today is the product of an FDR-era remodeling. At one end it has three big south-facing windows and the presidential desk. That's where presidents usually sit to address the country on television. At the other end is the fireplace, flanked by two sofas. That's where presidents sit to meet with visiting heads of state.
---