The (not so) secret history of the White House Easter Egg Roll
(Read article summary)
Once held on Capitol Hill, the White House Easter Egg Roll drew 30,000 to the president's South Lawn on Monday morning.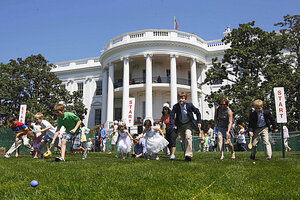 Charles Dharapak / AP
It's a full house at the White House Easter Egg Roll. A record 30,000 people are currently tramping down the grass of the South Lawn, announced First Lady Michelle Obama on Monday morning.
"That's pretty amazing," Mrs. Obama said in an opening speech that got the event off and rolling, so to speak.
Besides whacking at ovoid shapes with spoons, participants are getting a chance to listen to a full day of music. Willow Smith is the headliner here, we think. There is also a stage with readings by such authors as John Lithgow. (You thought he was just an actor? Obviously you have never encountered his masterful work of literature, "Marsupial Sue Presents: The Runaway Pancake.")
Also, there is yoga. Just saying.
But here's a question Mrs. Obama didn't address: Why does the White House hold this event in the first place?
Like so many things in Washington, the White House Easter Egg Roll is the result of political competition between the executive and legislative branches of the US government.
Historical sources differ as to when the practice of Easter egg rolling began in Washington. Some say Dolly Madison started the tradition, which would make sense, since she seems like someone who would have done such a thing. Others say it started under President Andrew Johnson, who is otherwise ranked as one of the worst US chief executives of all time.
---