St. Patrick's Day: Quick, which US president was most Irish?
(Read article summary)
American presidents often play up their Irish heritage – however distant that may be – to attract votes. But who is the 'most Irish' president? It may not be who you think.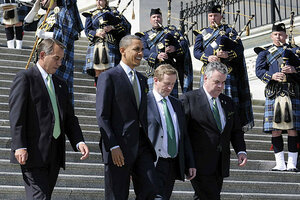 Jonathan Ernst/Reuters/File
With St. Patrick's Day upon us, this question comes to mind: Who's the most Irish US president?
OK, "most Irish" isn't exactly a scientific category. And lots of presidents claim ties to the Emerald Isle, including President Obama, who visited his ancestral home in Moneygall, County Offaly, last year.
But the answer is obvious. He's a Democrat. He's often included in historians' lists of the Top 10 US chief executives. And he isn't who you think.
Presidents play up Irish heritage for one big reason: votes. About 12 percent of the US population considers itself of Irish descent, according to census data.
The days of Irish control of big cities are long past. But pockets of Irish political strength remain in Boston, Philadelphia, and other metro areas. Irish heritage is so widespread in the United States that in some ways a little wearing of the green emphasizes a politician's American heritage.
That's why Mr. Obama is hosting his Irish eighth cousin at the White House this year. It's why Bill Clinton threw a St. Patrick's party that ended with a line dance to "When Irish Eyes Are Smiling." It's why Richard Nixon once considered leading a St. Patrick's Day parade – in Dublin.
---