Enjoy tax day 2012, next year could be 'Taxageddon'
(Read article summary)
Sure, this tax day won't be fun, but a raft of tax cuts are set to expire this year, and with Congress preoccupied by Election 2012, Americans face the prospect of a much bigger tax bill in 2013.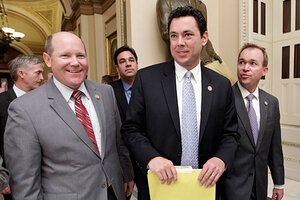 J. Scott Applewhite/AP/File
Think tax day 2012 is bad? Just wait – tax day 2013 could be a real humdinger.
Not because of the taxes you'll be doing late into the night of Sunday, April 14, 2013. But because the tax situation for the next year may be a serious, unbridled mess.
Decoder certainly isn't minimizing this year's tax pain – what, the government can hire clowns and mind readers and here I am picking up the tab?
"That's what's making writing that check for taxpayers today so difficult and so painful," said Rep. Jason Chaffetz (R) of Utah on a call with reporters. "When they see the waste, fraud and abuse that happens at the GSA and other parts of government it's just so frustrating to the American people. And it should be."
But frustrating won't begin to describe taxpayer pain if almost half a trillion in tax hikes come into being on Jan. 1, 2013. Looming on the horizon are a raft of tax proposals that could blow up in taxpayers faces so immensely that Chamber of Commerce President Tom Donohue wrote sardonically in a Tuesday op-ed that "Tax Day is upon us – and you should enjoy it. Why? As painful as it may be to write this year's check to Uncle Sam, it could be the smallest check you'll write for years to come."
---