GSA scandal: Does agency have culture of waste, fraud, and abuse?
(Read article summary)
Critics of the huge federal bureaucracy have a history of missteps to cite, from well before the latest GSA scandal, in which Jeffrey Neeley authorized $823,000 for a conference in Las Vegas.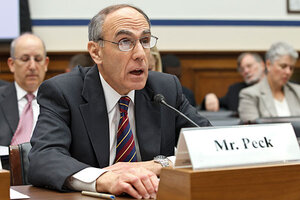 J. Scott Applewhite/AP
Is there a culture of waste, fraud, and abuse at the General Services Administration? That's what some lawmakers are charging in the wake of a second day of House hearings into lavish taxpayer-funded GSA junkets to Las Vegas and other resort spots.
The fact that western US GSA official Jeffrey Neeley opted for a clown show, a mind-reader, $6,000 in commemorative coins, a $75,000 bicycle-building team exercise, and 2,000 square-foot suites at the Las Vegas blow-out is but part of the story, according to members of a panel of the House Transportation and Infrastructure Committee.
After all, Mr. Neeley won a $9,000 performance bonus from GSA higher-ups following the $823,000 Las Vegas conference.
Other GSA regions have shown problems, according to reports from the agency's inspector general. In Kansas City, GSA officials hired an expensive public relations agency to handle complaints about possible exposure to toxic environmental substances at the GSA-managed Bannister Federal Building. In Los Angeles, the GSA is proceeding with a new federal courthouse despite vacant space in nearby federal buildings.
---