Think the Wisconsin recall is rare? It's just one of 103 so far this year.
(Read article summary)
The Wisconsin recall is part of a trend: The number of recall elections for state and local officials has been rising in recent years – fueled by political polarization and technology.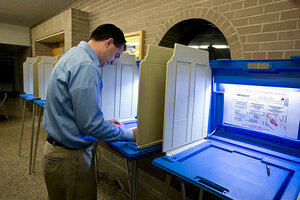 Morry Gash/AP
The statistic most commonly cited in media coverage about the Wisconsin recall is that this is just the third gubernatorial recall in US history (the other two being the 2003 recall of California Gov. Gray Davis, and the 1921 recall of North Dakota Gov. Lynn Frazier).
But while gubernatorial recalls may be rare, the number of recalls taking place in state and local jurisdictions has been sharply rising of late.
According to Joshua Spivak's Recall Elections Blog, a total of 103 recalls have either taken place, been scheduled, or already forced a resignation in 17 different states so far this year, with 17 of them taking place Tuesday (six in Wisconsin, six in California, and five in Oregon). This puts 2012 on track to beat 2011, which saw a total of 151 recalls, resulting in 85 removals.
Why the recent spike? In a recent article for The Atlantic, Mr. Spivak, a senior fellow at the Hugh L. Carey Institute for Government Reform at Wagner College in Staten Island, N.Y., points the finger primarily at technology. In the past, the biggest hurdle for a recall effort was the cost of gathering signatures. But social media is changing that game dramatically.
---