Obama campaign gear: What to do when 'hope' isn't in fashion?
(Read article summary)
At an Obama fundraiser this week, Vogue Editor Anna Wintour promoted a line of campaign gear by top designers. But in many ways it doesn't seem to square with the times.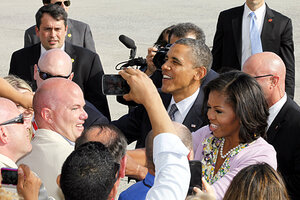 David Karp/AP
You can tell a lot from a T-shirt.
We've just been perusing the "Runway to Win" collection – an assortment of shirts, bags, and other gear created for the Obama campaign by well-known fashion designers such as Tory Burch, Diane von Furstenberg, and Marc Jacobs, available for purchase on the campaign website.
The line (if you can call it that) was promoted this week at an Obama fundraiser by none other than Vogue editor Anna Wintour, one of the president's top bundlers. It ostensibly offers Obama supporters a chance to own an item of clothing by a top designer at a price far below what their wares normally fetch.
But if this is an effort to recapture some of the Obama "cool" of 2008, it feels oddly tin-eared.
At a time when millions of Americans are still facing serious economic hardship, a collection of $45 T-shirts and $75 tote bags by designers typically associated with the East Hampton set does not exactly scream empathy.
---