Is Obama's tax plan a 'job-killer'?
(Read article summary)
Conservatives say the tax plan will harm small businesses – the nation's top job creators. But Obama says only about 3 percent of such firms are affected, while others call the tax-hiring link 'simplistic.'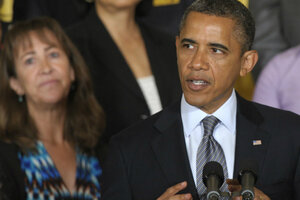 Susan Walsh/AP
If it became law, would President Obama's proposal to repeal Bush-era income tax cuts for households making more than $250,000 a year actually reduce US job growth?
That question arises because it is presumptive GOP nominee Mitt Romney's central criticism of the plan. Mr. Romney doubled down on this assertion at a campaign event Tuesday in Grand Junction, Colo., saying that higher taxes on "job creators and small businesses" are the last thing the struggling economy needs.
"That will kill jobs," Romney said at the event.
On one level this analysis reflects basic Keynesian economics, say some conservative economists. Repealing tax cuts is indistinguishable from raising taxes, whatever the income level of the affected taxpayers. And raising taxes takes money out of the economy that otherwise might get spent on food, clothes, cars, and so forth.
"Perhaps [Obama] is unaware that the economy is struggling and that no reputable economic research supports the idea that raising taxes is good policy," writes Douglas Holtz-Eakin, former chief economic adviser to Sen. John McCain's 2008 presidential campaign, in National Review's The Corner blog.
---