Mitt Romney says Obama 'robbed' Medicare of $716 billion. True?
(Read article summary)
Mitt Romney is hammering President Obama with the allegation that he's robbed Medicare to pay for Obamacare. But analysts suggest that's not an accurate appraisal of Obama's plan.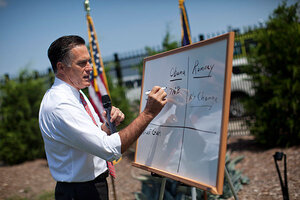 Evan Vucci/AP
The Mitt Romney campaign has a new talking point that it's hitting hard: President Obama "robbed" Medicare of $716 billion to help pay for his health-care reform legislation. Is this assertion accurate?
Well, it is true that the Affordable Care Act – known to some as Obamacare – would reduce spending on Medicare by $716 billion from 2013 to 2022, according to a Congressional Budget Office analysis. It is also true that this reduction is used to offset spending on other ACA provisions.
However, the ACA does not literally lop this figure off Medicare's bottom line. Most of these reductions would occur due to the fact that the law makes changes meant to lower future costs for the big health-care program for seniors.
For instance, the ACA cuts many of the payments Medicare makes in its fee-for-service system to hospitals, nurses, and other health-care providers. (Doctors would not be affected by this payment squeeze.) According to CBO, over the 10-year period it measured, Medicare payments for hospital services would go down by $260 billion, for instance. Payments for skilled nursing services would go down by $39 billion and for home health services by $33 billion.
---