Florida's Charlie Crist as new Obama fan? GOP has an answer for that.
(Read article summary)
The GOP response to news that former Republican Gov. Charlie Crist of Florida backs President Obama is a time-tested one for such occasions: question the turncoat's motive.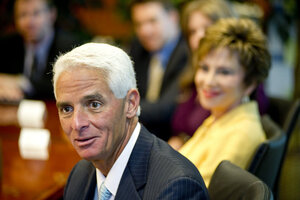 Ann Hermes/The Christian Science Monitor
Switching sides is always awkward in politics. But Charlie Crist's endorsement of President Obama Sunday puts Florida's former Republican governor in opposition to his party on the eve of the Republican National Convention in Tampa.
That's a whole different level of cold.
And Republicans are dropping bombs on the man many thought had a future on the national GOP stage in the same manner that Democrats recently blasted one of their own.
"Make no mistake about it: This is Charlie Crist trying to shed his skin for a political comeback," wrote Florida GOP Chairman Lenny Curry in an e-mail to Florida Republicans.
How do political parties excoriate their Judas-es? In short, by questioning the heretic's sincerity by citing the individual's past statements whacking the newly favored political team.
"Calling him a liberal will only play into his hand," Mr. Curry wrote. "He hopes it will divert attention away from his record and his years of calling himself a Conservative. You should take every opportunity with the media to remind Floridians that Crist has made a career out of bashing the Democrat Party and everything President Obama stands for."
---