Presidential debate 101: Does Romney have a $5 trillion tax cut, or not?
(Read article summary)
Obama insisted during the first presidential debate that Romney would cut taxes by $5 trillion over 10 years. Here's where that figure comes from – and why Romney rejects it.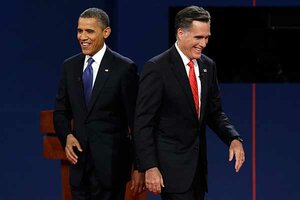 Charlie Neibergall/AP
In terms of numerical assertions, Wednesday's presidential debate at times seemed like a playground fight instead of a substantive encounter. President Obama and GOP nominee Mitt Romney threw figures at each other as if they were snowballs.
"You've got a $5 trillion tax cut!"
"Do not! You're the one with a $716 billion Medicare cut!"
"Not true!"
"Yes true!"
And so on. Eventually the school bell rang and they had to go in. Or moderator Jim Lehrer said it was over and they shook hands. One or the other.
That can't be edifying for viewers who don't keep Congressional Budget Office reports on their bedside tables. So we'll try to explain in a basic way the facts as we understand them behind some of the candidates' primary substantive disagreements.
We'll start with the $5 trillion tax cut mystery. At the beginning of the debate, Mr. Obama charged that Mr. Romney's economic plan calls for a tax reduction of that dollar figure, and that one of the "central questions of the campaign" is how the former Massachusetts governor will pull that off without shifting more of the US tax burden onto the middle class.
Romney said flatly "I don't have a $5 trillion tax cut." He said the US should provide tax relief to the middle class, without reducing the share of taxes paid by high-income people.
What's the story here?
---