Joe Biden's smiling: Was there method to his madness?
(Read article summary)
Vice President Joe Biden has come under some criticism for his excessive smiling during Thursday night's debate. But Biden might have set up President Obama well.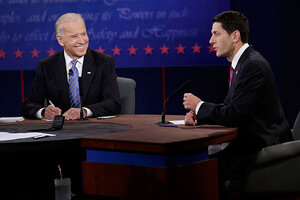 John Gress/REUTERS
Could Vice President Joe Biden's incessant smiling (or smirking, depending on your point of view) during the debate have been deliberate?
By asking this, we don't just mean that Mr. Biden had a strategy to be aggressive and try to disqualify his much younger opponent by refusing to appear to take him seriously. That's obvious enough.
No, we're wondering if something even more calculated could have been going on.
Here's our thinking: There was much to criticize about President Obama's performance in last week's debate – but the biggest failing, in the eyes of many of his supporters, was his lack of animation and firepower. He just seemed disengaged, so flat and feeble that viewers on both sides of the aisle agreed he'd essentially ceded the stage.
Biden's challenge Thursday night was not only to reenergize dispirited liberals – but, maybe even more important, to set the stage for Mr. Obama's next debate, which comes in just four days.
This time, Obama clearly will need to raise his energy level and give a more impassioned performance than the one he turned in last week. But he can't appear too heated, too dramatically different – or the effort could seem artificial and even desperate.
This is the trap that Al Gore fell into back in 2000. Widely criticized for his demeanor in his first presidential debate – particularly those now-infamous sighs – he made an obvious effort to change his approach in the next round. The result? He was panned again, this time for what seemed like a too-transparent attempt to be more likable.
---