Black Friday politics: Do some stores lean Democratic or Republican?
(Read article summary)
Black Friday is upon us, which means a break from politics, right? Nope. DC Decoder offers you a by-the-numbers look at how some top holiday retailers spend their money politically.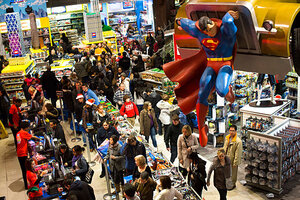 John Minchillo/AP
Black Friday: It's a day in which most American citizens put aside politics in pursuit of shopping bargains. But in Washington we can sort almost anything in the US in terms of partisan proclivity, and temples of commerce are no exception. Want to know whether the big box store where you're waiting in line leans Democratic or Republican? The folks at the invaluable Center for Responsive Politics have compiled a handy guide based on campaign contributions.
Toys R Us, for instance, seems a solidly blue store. Self-identified employees of the store gave $39,000 to political candidates in the 2012 election cycle, and $36,000 of that went to Democrats.
Dig into the numbers though, and you'll see that Toys R Us is not so much Democratic as Klobucharian. All that $36,000 went to one candidate, Sen. Amy Klobuchar (D) of Minnesota. (That's kind of odd, isn't it? The retailer's corporate headquarters are in New Jersey.) Other than that, Mitt Romney got $1,750 from Toys R Us workers. President Obama got zilch, according to CRP's Open Secrets blog.
---