Chris Christie's star is shining bright. How long can it last?
(Read article summary)
Polls show Gov. Chris Christie – who is seeking reelection – with sky-high approval ratings, thanks to his handling of hurricane Sandy. Whether that lasts long enough for a presidential bid remains to be seen.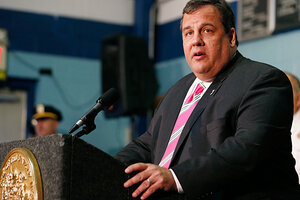 Julio Cortez/AP
New Jersey Gov. Chris Christie is certainly riding high these days. His announcement that he will, as expected, seek reelection next year comes just as several new polls show his approval ratings have hit record levels in the Garden State.
According to a new Quinnipiac University poll, 72 percent of New Jersey voters currently approve of the job Governor Christie is doing. That's the highest score ever recorded for a New Jersey governor, and a 16-point improvement for Christie since before superstorm Sandy hit the state last month. A Fairleigh Dickinson University poll released Monday put Christie's approval rate even higher, at 77 percent. Even 52 percent of Democrats in the Quinnipiac poll now approve of the governor.
In a release, Maurice Carroll, the Quinnipiac poll's director, commented that Christie "never looked more like a 'Jersey Guy' than when he stood on the Seaside boardwalk after Sandy, and, just about unanimously, his New Jersey neighbors – Republicans, Democrats, Independents – applauded."
The turnaround in Christie's standing in his home state has clearly given pause to Democrats like Newark Mayor Cory Booker, who, not too long ago, seemed poised to mount a gubernatorial bid of his own.
---