Taxing the rich: why $250,000 became the benchmark
(Read article summary)
Some Democrats had sought an income threshold well above $250,000. But since the election campaign and in 'fiscal cliff' talks, that's the number President Obama has settled on. Here's what's behind it.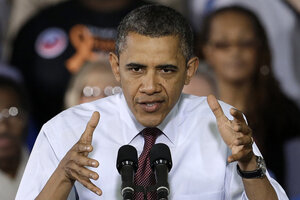 Paul Sancya/AP
What is the definition of "wealthy"?
This matters, especially now, as President Obama and House Speaker John Boehner try to come to terms on a package of tax hikes and spending cuts that will keep the nation from going over the "fiscal cliff" on Jan. 1.
Over the years, Democrats have gone back and forth on the "wealth" question, as they have sought ways to raise more federal tax revenue. For a time, it was a taxable family income over $250,000 a year. Then last year, Democratic leaders – with New York Sen. Chuck Schumer leading the charge – decided it should really be $1 million. That's a pretty big difference, no matter how you slice it.
After all, as Senator Schumer likes to point out, there are pricey neighborhoods in his state (and others), where $250,000 is a comfortable income, but hardly extravagant. The $250k threshold would also mean higher taxes on some small businesses, which is politically awkward.
"I think we feel millionaires – that's the fairest way to go," Sen. Barbara Boxer (D) of California told Politico in October 2011.
---