Amid Newtown grief, will a 'fiscal cliff' deal quietly get done?
(Read article summary)
While the nation is focused on the shootings in Newtown, Conn., lawmakers appear to be nearing an agreement on the fiscal cliff – and may settle the matter without fight or fanfare.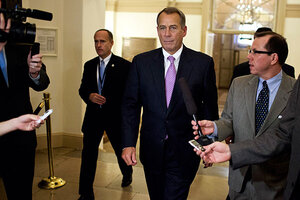 Joshua Roberts/REUTERS
In the wake of the terrible tragedy in Newtown, Conn., many in Washington have noted that the "fiscal cliff" suddenly doesn't seem all that momentous, after all.
Instead of a big, year-end showdown over taxes and spending, it's looking as if lawmakers may wind up quietly settling the matter in the coming days, without much fighting or fanfare. The simple fact is, it's hard to envision anyone choosing to dig in their heels in an ugly stalemate over fiscal matters when the entire nation is grieving the murders of 20 schoolchildren and their teachers.
On Monday, President Obama met again with House Speaker John Boehner – presumably to discuss in earnest the offer Mr. Boehner made over the weekend, in which he agreed for the first time to raise tax rates. According to reports, Boehner's proposal would raise rates on those earning more than $1 million a year, along with closing some loopholes and eliminating deductions, for a total of $1 trillion in new tax revenues over 10 years.
The proposal also calls for about $1 trillion in spending cuts, at least some of which would come from entitlement programs. In addition, there are reports that Boehner also has agreed to raise the debt ceiling – averting another potential crisis – in return for the broader cuts in spending.
---