Debt-limit fight takes shape: Will Mitch McConnell ever be satisfied?
(Read article summary)
Some Republicans say they're ready to take the debt limit hostage in order to get spending cuts. Sound familiar? But there's a good reason this political cycle keeps repeating itself.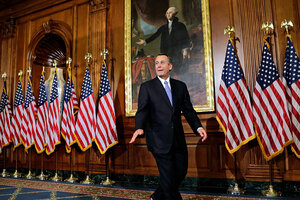 J. Scott Applewhite/AP
[Editor's note: Updated at 1:07 Eastern time.] Remember the "fiscal cliff" – that Armageddon of spending cuts and tax hikes that threatened the send the US economy back to the age of stone tools and woolly mammoth pelts? Well, if Washington is to be believed, that was just a warmup act.
The latest word from inside the Beltway is that Republicans are girding themselves for a fight on what might be called the Fiery Chasm of Fiscal Doom:
America will bump up against the debt ceiling, which allows the federal government to borrow more money, next month.
The "sequester" spending cuts to defense and domestic spending outlined in the 2011 debt-ceiling deal – and postponed by the fiscal cliff deal – come due on Feb. 28.
The stopgap bill that allows the federal government to function despite still not having a 2013 budget expires March 27.
Republicans say they will not raise the debt limit unless the increase is offset by spending cuts. Senate minority leader Mitch McConnell (R) of Kentucky hinted at their strategy when he told CBS's "Face the Nation" Sunday that if the government has to pare back services to deal with an unchanged debt limit, it would be the president's fault.
For his part, President Obama says he won't allow Republicans to hold the debt limit hostage and won't play ball. Behind the scenes, there are rumors of a "grand bargain" that could tie up all the outstanding issues in a nice bow.
Stop us when this sounds familiar.
So why does Congress lurch from crisis to crisis, seemingly propelled by the Republicans' demand to take a pound (or more) of spending flesh at every turn?
---