Republicans talk up a 'government shutdown.' Do they mean it?
(Read article summary)
With a series of fiscal deadlines approaching, some Republicans in Congress say they're ready to shut down the government to get real spending cuts, a reprise of the famous shutdowns of 1995.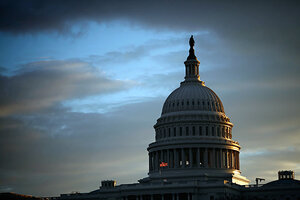 J. Scott Applewhite/AP
With one short-term deal to avert the fiscal cliff behind them, Republicans have already moved on to Round Two, and are making it clear that this time, they believe they have a lot more leverage – including the threat of a government shutdown.
Yes, you heard us correctly. The same party that shut down the federal government twice back in 1995 – only to suffer a massive public backlash, paving the way for a sweeping reelection victory for President Bill Clinton – is now openly suggesting that they'd walk that same plank again. In fact, listening to the rhetoric coming from many GOP members recently, it's sounding like a possibility they'd not only accept, but would actually embrace.
To give just one example: Texas Sen. Ted Cruz, a tea party favorite, told CNBC last week: "I think we have to be prepared to go so far as to shut the government down if we don't get some serious policies to stop the out-of-control spending, to tackle the debt, and to get economic growth."
There's been some interesting revisionism of late when it comes to the 1995 shutdowns. Republicans have been suggesting that those episodes, far from being a political disaster for their party, were actually positive, because they pushed President Clinton to embrace smaller government and led to the eventual accomplishment of things like a balanced budget and welfare reform.
On NBC's "Meet The Press" on Sunday, former shutdown-architect Newt Gingrich himself made the case that the events of 1995 could provide a good model for action today, saying: "I helped close the government twice. It actually worked. Bill Clinton came in and said 'the era of big government is over' after two closures, not before."
---