Will Republicans regret the decision to delay Chuck Hagel's nomination?
(Read article summary)
Republicans flexed some political muscle with their unprecedented filibuster of a cabinet nominee. But it could open them to charges of 'obstructionism' and lead to more constraints on the power of the minority.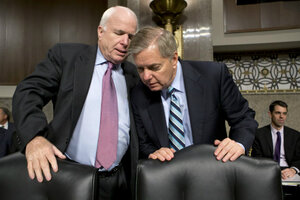 J. Scott Applewhite/AP
Did Senate Republicans win a political victory with their filibuster (though they've declined to call it that) of Defense nominee Chuck Hagel? Or will it prove to be a Pyrrhic one?
On the one hand, Republicans are again putting the White House on notice that, despite their minority status, they still have the power to block pretty much any part of President Obama's agenda – including even his cabinet nominees – and that Democrats are going to have to work with them, if they want to get anything done.
On the other hand, Republicans have opened themselves up to charges of taking "obstruction" to new heights, with an unprecedented filibuster of a cabinet nominee, who happens to be a decorated Vietnam veteran and a Republican. Republicans have done this, Democrats will argue, because they view Mr. Hagel as a traitor to his party for turning against the Iraq War (an issue on which the majority of Americans side with Hagel, according to polls).
More to the point, this may prove to be just the incentive Democrats need when it comes to passing meaningful filibuster reform – as opposed to the watered-down measure passed last month – in order to put more constraints on the power of the minority.
In hindsight, it's telling that Majority Leader Harry Reid (D) decided to go ahead with the cloture vote, knowing he probably didn't have the 60 votes needed to end debate and proceed to an up-or-down vote on Hagel's nomination. Reid could have just delayed the matter, while Democrats tried to get one more Republican to agree to cloture. But instead he forced the other side to go through with their filibuster threat.
---