Obama looks for new allies in 'sequester' fight: Republican governors
(Read article summary)
The president is hoping that governors – who will have to grapple with the impact of the sequester in their states – will lean on members of Congress to avert the spending cuts.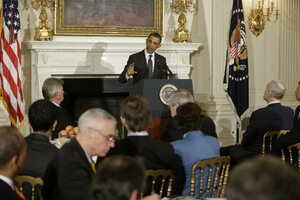 Charles Dharapak/AP
President Obama is trying to get some new allies in his effort to pressure Congress to avert the "sequester": the nation's governors – in particular, Republicans.
Speaking Monday morning to the National Association of Governors, assembled in Washington for their annual conference, Mr. Obama urged the governors to lobby their congressional counterparts directly and tell them just how painful the across-the-board spending cuts will be in their particular states.
To help them make their case, the White House also provided the governors with some specific data points showing just what the impact of the cuts will be, in a series of fact sheets detailing exactly how the cuts will affect each state individually. For example, according to the White House analysis, Arkansas stands to lose $5.9 million in funding for primary and secondary education. In Maryland, 46,000 Defense employees would be furloughed. In Florida, more than 7,000 children won't get vaccines.
Obama then drove the point home: "While you are in town, I hope you will speak with your congressional delegation and remind them in no uncertain terms exactly what is at stake and exactly who is at risk. Because here's the thing: These cuts do not have to happen. Congress can turn them off anytime with just a little bit of compromise."
It's another attempt by the president to pressure congressional Republicans from the outside, rather than engage in direct negotiations with them. Republicans have been criticizing the White House for this tactic, even though direct negotiations haven't proved particularly fruitful in the past.
---