Obama argues a balanced budget isn't necessary. Can he convince the public?
(Read article summary)
Republicans propose to balance the budget within 10 years, while Democrats argue that such a move could actually hurt the economy. History suggests the politics may be on Republicans' side.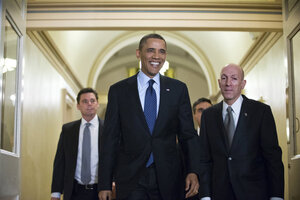 J. Scott Applewhite/AP
Are Republicans wrong to make balancing the federal budget a priority? That's essentially what President Obama said Tuesday in an interview with ABC's George Stephanopoulos.
"My goal is not to chase a balanced budget just for the sake of balance," Mr. Obama said. "My goal is, how do we grow the economy, put people back to work."
He added: "We're not going to balance the budget in 10 years, because if you look at what Paul Ryan does to balance the budget, it means that you have to voucherize Medicare, you have to slash deeply into programs like Medicaid, you've essentially got to either tax middle-class families a lot higher than you currently are, or you can't lower rates the way he's promised."
Obama's comments mirror what left-leaning economists like Paul Krugman have been arguing for a while: that while Washington will need to tackle its debt problem at some point down the line, doing so right now is not only unnecessary but could actually damage the economy. With the private sector still weak, the argument goes, reducing government spending could cause a contraction that could potentially send the economy back into recession.
---