Gay marriage: Why Sen. Chambliss' clunky quote indicates softening GOP stance
(Read article summary)
Republican Senator Chambliss has taken some flak for saying he opposes gay marriage because he's 'not gay.' But it's another sign that GOP opposition is moving from doctrinaire to personal.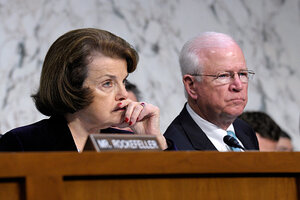 Susan Walsh/AP
Georgia Sen. Saxby Chambliss is getting some blowback online for remarks he made to Politico about gay marriage. Asked if he might ever reconsider his opposition to marriage equality, Senator Chambliss is quoted as saying: "I'm not gay, so I'm not going to marry one."
Predictably, this has sparked a slew of mocking headlines and comments.
The Atlanta Journal Constitution, Chambliss's hometown paper, went with "Gay Marriage? Saxby Chambliss says he's taken." Talking Points Memo's Josh Marshall posted simply: "Tough Hurdle: So Sen. Saxby Chambliss has to become gay apparently before he'll support marriage equality." New York Magazine's Jon Chait joked: "Given that personal experience seems to be how Republican senators change their minds on the issue, I would urge gay-rights groups to introduce some handsome, charming guys to Senator Chambliss and see if sparks fly."
What's interesting to us about Chambliss's "quip," however inartful, is that it doesn't really sound like strident opposition. Unlike previous election cycles, when most Republicans were actively promoting legislative measures to prevent gay marriage, these days they seem to be taking pains to emphasize that their opposition to it is strictly personal.
Policy-wise, they're no longer pushing for a constitutional amendment banning gay marriage, but increasingly arguing that it is an issue that should be left up to the states. And more and more GOP officials like Chambliss are describing their views with lines that sound almost like "this old dog can't learn new tricks." The implication: they're not really trying to fight the tide of history. They're just asking to be allowed to maintain their own views.
---