Why hasn't North Korea fired its Musudan missile yet?
(Read article summary)
Satellite imagery has detected the movement of several Musudan missiles toward the east coast of North Korea, and a test is widely expected. But April 15 is not likely to be the day. Here's why.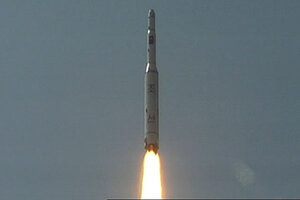 KRT TV/AP/File
North Korea began observing the major national holiday of founding leader Kim Il Sung's birthday on Monday. Throughout the country, people waved celebratory banners and flags and lined up to place flowers at statues of the elder Kim and his son, the late Kim Jong Il. But at least one major event predicted by outside observers of Pyongyang did not happen: North Korea has not launched its widely expected test of a new Musudan missile – at least, not yet.
Why not?
Well, first we'll note that most US officials and experts on North Korean from outside government circles have long used the word "around" when discussing April 15 and the notional missile launch. Satellite imagery has detected the movement of several Musudan models toward North Korea's east coast, and some reports indicate that at least one of the missiles has been set upright on its road-mobile launcher.
Pyongyang often holds military exercises, parades, and demonstrations around Kim Il Sung's birthday. But April 15 is not the hard deadline on which these events always occur.
The simple explanation for that is that North Koreans, even high-ranking ones, want to enjoy the holiday. That's what International Crisis Group East Asia specialist Daniel Pinkston told the website NKNews.org.
---