Edward Snowden: How much trouble is he in for leaks of NSA snooping?
(Read article summary)
Prosecutors would certainly pursue mishandling of intelligence and possibly espionage charges that could result in decades of prison time. But the first US challenge is to get Edward Snowden in custody.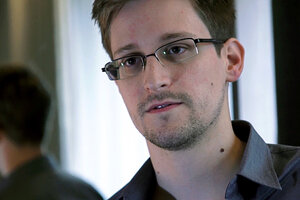 The Guardian/AP
The person who leaked classified US documents on sweeping surveillance programs to the press has now leaked his own identity. Edward Snowden, a young computer system professional for a National Security Agency contractor, revealed on Sunday that he provided information on two NSA programs to The Guardian and Washington Post newspapers. He said his motive was to expose the extent of US electronic snooping and that he's clear-eyed about the consequences to come.
"I have no intention of hiding who I am because I know I have done nothing wrong," Mr. Snowden told The Guardian in a story published at his request.
Now that he's gone public, how much trouble is Snowden in? That depends on a number of factors, including how long he can stay in his current location of Hong Kong, and what the US decides to charge him with if he returns home.
He himself told the Post reporter he worked with that his disclosure of the NSA information "marks my end." That may be an exaggeration, but the quick answer to the "how much trouble" question starts with "quite a bit," and then possibly slides up the scale to "tons" and "almost as much as Bradley Manning."
---