Caroline Kennedy: Is she qualified to be US ambassador to Japan?
(Read article summary)
Caroline Kennedy's previous foray into public service, an aborted run for US Senate in New York, was awkward. But she has what any good ambassador must have: clout with the president.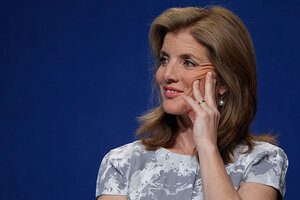 Brian Snyder/Reuters/File
President Obama nominated Caroline Kennedy Wednesday to be his next ambassador to Japan, a high-profile diplomatic post that would serve as just reward for her loyalty to his presidential campaigns in 2008 and 2012.
Ms. Kennedy, a lawyer, author, and mother of three, endorsed Mr. Obama during his contentious 2008 Democratic primary battle against Hillary Rodham Clinton. She and her uncle, the late Sen. Edward Kennedy of Massachusetts, threw the weight of Camelot's dynasty behind the young first-term US senator from Illinois. Their approval gave Obama critical establishment validation, and effectively underscored that Obama's vision for his time stirred similar passions in the electorate as President Kennedy's candidacy did in 1960.
In a 2008 New York Times opinion article titled "A President Like My Father," Kennedy wrote that she has never had a president who inspired her the way people say her father inspired them.
"Sometimes it takes a while to recognize that someone has a special ability to get us to believe in ourselves, to tie that belief to our highest ideals and imagine that together we can do great things," she wrote. "In those rare moments, when such a person comes along, we need to put aside our plans and reach for what we know is possible. We have that kind of opportunity with Senator Obama."
---