Anthony Weiner plunges in new poll. Is he dragging his wife down, too?
(Read article summary)
More than half of those surveyed in a new poll said Anthony Weiner should drop out of the N.Y. mayor's race. Whether his wife, Huma Abedin, a Hillary Clinton aide, is harming her own future is increasingly at issue.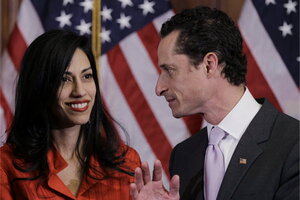 Charles Dharapak/AP/File
The Anthony Weiner political death-watch turned up a notch Tuesday, as the latest poll of the New York mayoral contest shows the former congressman has plummeted to fourth place in the Democratic primary field. And more than half of those surveyed – 53 percent – suggest he should drop out of the race.
Nevertheless, Mr. Weiner, whose sexting-young-women-while-married habits have catapulted the contest into a state of gross parody, has pledged to continue his campaign. His commitment to the race is the only such vow Weiner seems unwilling to break. He has violated the fundamentals of any good and honest marriage, not to mention abusing the public trust he won when voters in New York's ninth congressional district sent him to Washington six times.
The ranks of those finding Weiner offensive seem to cross party lines, gender, ethnicity, and religion. And voters, who were told as he launched his campaign that this chapter of bad behavior was behind him, are having none of it.
The Quinnipiac survey shows City Council Speaker Christine Quinn leading the crowded field with 27 percent. She is trailed by Public Advocate Bill de Blasio (21 percent) and former Comptroller William Thompson (20 percent). Weiner registers at just 16 percent. He was ahead of his rivals in June.
The primary is Sept. 10.
"With six weeks to go, anything can happen, but it looks like former Congressman Anthony Weiner may have sexted himself right out of the race for New York City mayor," says Maurice Carroll, director of the Quinnipiac University Polling Institute. "And with Weiner in free-fall, it begins to look like a three-way race again."
Weiner's fate seems sealed at this point (the good people who handle tech support at Gracie Mansion can breathe a bit easier). Redemption looks to be out of reach, obstinance and delusion are the orders of the day. The cable psychoanalyzing of this public figure is wearing thin, even on the talking heads themselves, who are looking to fill air time during the lazy summer months. (How long, by the way, before Weiner gets his own chat fest?)
---