JFK anniversary: the best Kennedy books of all time
(Read article summary)
To coincide with the 50th anniversary of the Kennedy assassination, new JFK books abound. Some are quite good, but these three classics are hard to beat, even indispensable.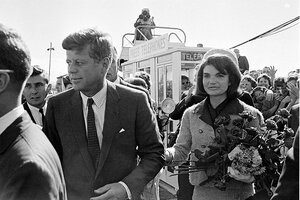 AP/File
John F. Kennedy books are at flood tide this year, the 50th anniversary of his assassination in Dallas.
To name a few, there are good new volumes about his years in Congress ("JFK in the Senate," by John T. Shaw), about the final months of his presidency ("JFK's Last Hundred Days," by Thurston Clarke), and even his general White House glamour ("Camelot's Court," by Robert Dallek). There are books about JFK and Jackie, and JFK and Reagan, and JFK and the possible impact of his stillborn son. There's a great book about Kennedy's overall impact: "The Kennedy Half Century," by Larry J. Sabato.
There's even a book by former pro-wrestler and Minnesota Gov. Jesse Ventura titled, "They Killed Our President: 63 Reasons to Believe There Was a Conspiracy to Assassinate JFK."
Count us among the unconvinced. By Mr. Ventura, anyway.
That said, Decoder still believes in the Kennedy classics. We've had to touch on the Kennedy era numerous times in our career, and there are three JFK books on our shelf we could not do without.
"JFK Reckless Youth," by British journalist Nigel Hamilton. Yes, it's kind of a salacious title, and it delves much into the young Kennedy's romances – such as his affair with Inga Arvad, a Danish journalist whom the FBI suspected was a German spy.
But this 1992 classic is great on JFK's troubled prep school years, the difficulties of his relationships with father, Joe, and older brother Joe Jr., and the general angst of his teen and early adult life. This puts the cool, unruffled façade of his political years in a whole different context. And where else will you read that he and a pal got in so much trouble at Choate that they sent a letter to the French Foreign Legion, asking to join?
---